Ex-footballer Jody Craddock receives new identity as artist – BBC News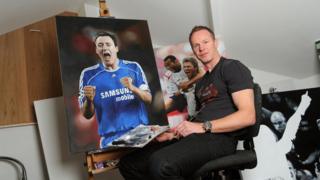 Artist Jody Craddock is beginning to make a name for himself in the field covered by painting. But however successful he becomes, it is debatable whether he will ever be better known than he was during his long football career with Sunderland and Wolverhampton Wanderers. So when his contemporaries were moving into punditry or football management, how did this centre-half become an artist?
"I could play football and I could paint, " jokes Jody Craddock. "It's all I could do."
Former England captains David Beckham and John Terry – the portrait of the Chelsea defender being commissioned by the player himself – have been superstar subjects for Craddock's brush, along with many other team-mates and opponents.
Craddock has also painted his old boss – the former Wolves owner Sir Jack Hayward, who died earlier this year – and the massive portrait still hangs in the main corridors of power at Molineux stadium.
So football loomed large in his art but where reference is launchings a first "serious" exhibition of his painting in the Midlands, simply north of the M1/ M6 interchange this weekend, the 40 -year-old former professional footballer will be heading off in a new career direction.
When he retired from football in May 2013, it was an obvious career move for Craddock to then go and concentrate on what had already been a lucrative sideline in the latter years of his playing days. Yet he is about to show he has moved on from his football days by painting things other than footballers – a new define of pictures he hopes will establish for him "a new identity as an artist".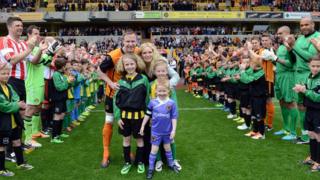 "I think it's common knowledge that I'm an artist, " Craddock told BBC WM. "That's what I naturally went into when I retired from football. But I've been working on a new identity, which I've kept under wraps for the last year.
"I'd done portraiture for years. When I retired I then experimented with graffiti and photo realism. But I needed something that can be taken seriously, that looks good and that people will look at and recognise.
"There's a not a lot out there that has not already been done, so to think of something original and different was hard."
But old habits die hard, evidently, and Craddock has not moved on so far from his football days that he cannot pay some homage to his former profession. When he launches his collect – Le Bellezza Della Fusione – this weekend, at the Antidote Art Gallery in Lutterworth, Leicestershire, it will be at the traditional football kick-off period of 15: 00 on a Saturday – and the event will last for two hours, coming to an aim about the same period as the final whistle blows on the afternoon's fixtures.
---
Former footballers and their unorthodox careers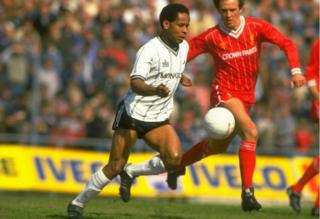 England's 1966 World Cup-winning left back Ray Wilson became an undertaker after retiring from football Former Wigan and Portsmouth defender Arjan de Zeeuw is now a detective in his native Netherlands – and has captained the Dutch national police football team John Chiedozie( pictured above ), who played on the wing for Orient, Notts County and Tottenham in the 1970 s and 80 s, operated his own company hiring out bouncy palaces for parties Former Middlesbrough and Blackburn winger Stuart Ripley became a solicitor and has worked largely on athletics issues Paul McGregor, who played as a striker for Nottingham Forest in the 1990 s, was the vocalist in a band called Merc during his playing days and went on to front post-punk band Ulterior Francis Lee( below ), who played up front for England in the 1970 World Cup and won the league with both Manchester City and Derby County, induced his post-football fortune as a toilet paper magnate Vinnie Jones, Eric Cantona and Frank Leboeuf all played in the Premier League in the 1990 s before moving into acting