Scottish freedom: The SNP stops talking and starts listening – BBC News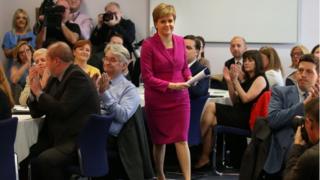 When you don't know what to say it is usually a good notion to shut up and listen. Advice many of us would probably be wise to follow on occasion. And that's exactly what Scotland's First Minister Nicola Sturgeon tells she is going to do.
Today she announced the launch of a "national conversation" about Scottish independence. An initiative she tells will be "Scotland's biggest ever political listening exercise".
Anyone who hoped that she would define a date for another referendum on Scottish independence is a possibility disillusioned. But Ms Sturgeon is not yet ready to commit to holding another election.
In the immediate wake of the EU referendum she said she supposed another referendum was "highly likely". But she knows she has a lot of work to do before that becomes a certainty.
Sturgeon launches new independence drive John Curtice on what the polls say about indyref2 IndyRef2: the questions Sturgeon faces Image caption Ms Sturgeon is unlikely to hold a second referendum until she is confident there will be no repeat of 2014's letdown Image caption The SNP now has more than 120,000 members